APPEARANCE OF TAGS WITH EYELETS
A robust tag design can incorporate an eyelet, which not only enhances the appearance of the tag but also substantially reinforces the hole. Our eyeletting process uses metal eyelets, which we offer in either a brass or nickel finish. These two finishes have a gold and silver tone, respectively. We plan to offer different finishes for eyelets in the future, but due to these being so commonly requested they are the extent of what we currently offer.
DESIGNING FOR EYELETTING
The eyelets that we use are 1/4″ O.D. (outer diameter) or 1/4″ from one end of the flange to the other. The inner portion of the eyelet, or barrel, is 3/16″ I.D. (inner diameter) and accommodates any string that we offer. The flange dimensions and clearances will be the information that is most relevant to the design of your hang tag. Most of all, you will want to be sure that adequate space remains around the proposed location of the eyelet. Because the flange is wider than the barrel, we need to be sure to prevent our eyeletting process from obscuring any part of your copy. For more information on designing your hangtag, our Design Guidelines will be especially relevant.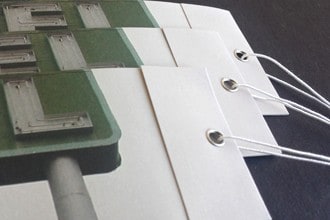 Folded Tags with Eyelets
Eyelets, when used on a folded tag, are a highly practical application. As seen in the image at left, the eyelet holds one folded end firmly closed, allowing the other end to be opened like a hinge. This style sees the most use with luggage or valet tags.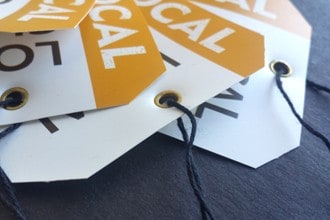 Synthetic Tags with Eyelets
Tags of synthetic stock find use in many applications, including food production and plant nurseries, among others. Eyelets are an excellent way to additionally reinforce a tag which may be exposed to moisture or damp conditions.
Gift Envelopes with Eyelets
We specialize in stringing gift envelopes, both sealed or unsealed. Gift envelopes can serve a wide range of industries, and can contain items as varied as heirloom seeds, scented bath products, store gift certificates, and many other gift items.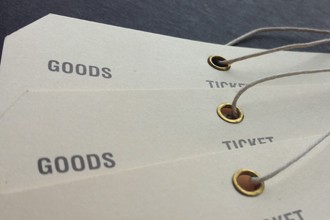 Industrial Applications
Eyeletted tags serve in a wide variety of industrial applications, from garment production to industrial facilities. A tag with a metal eyelet is a simple and useful type of reinforced tag, and one which does not require synthetic print stock.