Pre-knotted loops are also available, which are produced by running our stringing machines without tags. Knotted loops are most commonly used for hand application to finished pieces with drilled or die-cut holes.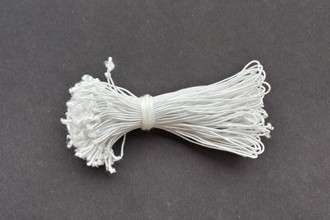 Knotted Loops for Application by Hand
Deadlines are deadlines, and schedules tend to be unforgiving. When there is not enough time to send a job to us for stringing, we can ship you bundles of pre-knotted loops that you can loop through pre-drilled or pre-punched tags for that last-minute production run. We can also do the looping for you. Check out our Handwork page for more information.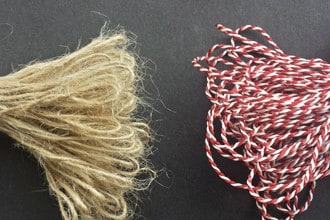 Strings for Every Project
We offer knotted loops of any kind of string we use for normal stringing operations. Our string options are detailed on our String page. Feel free to browse our selections, or contact us to request a sample.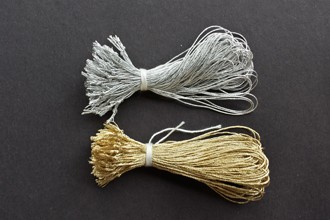 Knots with Trimmed Tails
A popular option for metallic lamé loops is for trimmed tails. "Tails" are understood in our industry to signify the portion of the loop past the knot. Our machines do not control the length or appearance of the tails, so loops are trimmed by hand for a neater appearance.